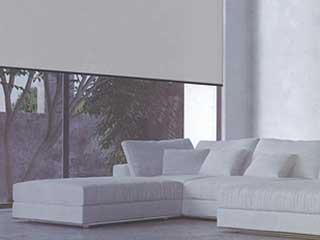 Berkeley Blinds & Shades is here and ready to help you discover the best window treatments to suit your needs, for both home and business. Blackout blinds are sure to make a big difference in either space, thanks to their exceptional ability to completely darken rooms. They provide many benefits, and our professionals will be glad to walk through them all with you! From getting better sleep in your bedroom to improving productivity in your business, blackout window coverings will make things easier. These room darkening covering options come in all sorts of forms and styles.
Effective Blackout Blinds on Bedroom Windows
Bedrooms are one of the most efficient places to have blackout blinds installed, and your sleep cycle will thank you for it! It's much easier to fall and stay asleep in total darkness, with no interruptions from car lights or otherwise. They also provide a huge advantage for anyone who needs or wants to sleep during the day by thoroughly keeping out the sunlight! And, there won't be any need to worry about privacy, as their blackout nature also creates seclusion for you to feel safe in. Have kids or a baby to worry about? Blackout blinds can help keep them sleeping soundly as well!
Motorized Blackout Blinds for Berkeley Residents
Why not get all of the aforementioned benefits of blackout blinds, along with the ease of motorization? Motorized blackout window treatments not only provide the ability to completely darken a room as needed but the simplicity of closing them with a touch of a button. You can choose from putting an app on your smartphone thanks to Wi-Fi capability, wall sensors to adjust them for you, or a remote control. Regardless of what you pick, you'll know that it'll now be a breeze to open and close your window coverings.
Blackout Covers for Glass Doors and Skylights
Rather than risk damage to your furniture, as well as waste energy, why not keep either from happening with blackout blinds? Patio doors can let in a lot of direct sunlight due to how wide they are, which will bleach furniture over time if unhindered. It also heats your interiors and may force the AC to run when it shouldn't have to. Our blackout window coverings made specifically for sliding glass doors will take care of all of these problems right away. Our Berkeley blinds experts make them to the specifications of your door as well, so they'll fit and work perfectly. Skylight blackout blinds are also available to avoid the same issue occurring with them.
Budget Blackout Blinds for Berkeley Offices
Are you tired of squinting at presentations that are hard to see because it's too bright in the meeting room? We can help with our blackout blinds! They are certain to provide total darkness to allow easy viewing of PowerPoint slideshows, videos, and more! Blackout window coverings also ensure privacy, making them good for boardrooms, and personal offices. And, if your employees are struggling with glare on monitors, they won't any longer once blackout blinds are installed! You can pick and choose different features you want, as well as the material and colors. Give us a call to schedule a free consultation & estimate at any local Bay Area address.