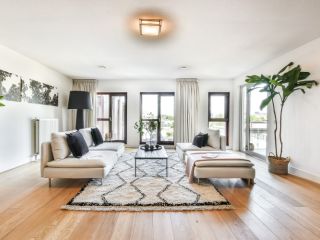 Berkeley Blinds & Shades - Your Premier Destination for Custom Curtains and Draperies
Welcome to Berkeley Blinds & Shades, your trusted source for exquisite curtains, draperies, and window treatments. With our comprehensive range of window solutions, expert installation services, and invaluable advice, we're dedicated to transforming your space into a haven of elegance and comfort. Located in the heart of Berkeley, we serve both residential and commercial clients in the city and its surrounding areas.
Wide Range of Draperies & Curtains
At Berkeley Blinds & Shades, we offer a wide and diverse selection of curtains and draperies to cater to your unique interior design needs. Whether you prefer the rich, timeless appeal of draperies or the versatility of curtains, we have something to suit every taste and decor style. Our extensive range includes options for both indoor and outdoor spaces, ensuring you can enhance any environment.
Motorization with Somfy and Lutron
Our commitment to innovation extends to the motorization of your window treatments. We exclusively use industry-leading brands, Somfy and Lutron, to automate your curtains and draperies. Experience the convenience of remote-controlled window treatments, allowing you to adjust light, privacy, and ambiance at the touch of a button. Berkeley Blinds & Shades brings the future of home automation to your fingertips.
Why Choose Curtains and Draperies?
Curtains and draperies offer a plethora of benefits compared to other window treatments. Here's why they are a preferred choice:
Elegance: Curtains and draperies add a touch of elegance and sophistication to any space, making it warm and inviting.
Versatility: These window treatments are incredibly versatile, fitting into various design aesthetics, from traditional to modern.
Light Control: You have precise control over the amount of light and privacy you desire.
Insulation: Curtains and draperies provide excellent insulation, reducing energy costs and maintaining comfortable indoor temperatures.
Soundproofing: Enjoy peace and quiet with enhanced sound insulation.
Customization: Personalize your curtains and draperies to match your unique style and preferences.
Free Consultation, Installation, and Expert Advice
Berkeley Blinds & Shades goes the extra mile to ensure you get the perfect window treatments for your space. We offer free consultations where our experts visit your location, assess your needs, and provide recommendations tailored to your requirements. Our professional installation ensures a flawless finish, and we're always ready to provide you with valuable advice on choosing the right curtains and draperies for your home or business.
Discover Our Range of Window Treatments
In addition to curtains and draperies, we offer an extensive range of window treatments, including blinds, shades, and custom solutions for both residential and commercial spaces. We're your one-stop destination for all your window covering needs.