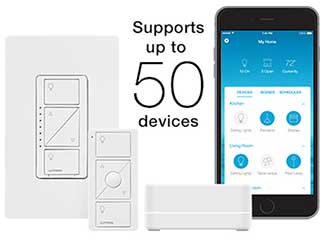 Lutron's motorized window shades look great because they're made to the highest standards around. That's not all, though, because they also offer unparalleled energy efficiency capabilities for your business or home. With window coverings like these, you don't just get a great-looking way to cover up your windows. You get near-silent Lutron motorized shades that can effortlessly provide a comfortable level of brightness and warmth in your property. There's almost no limit to the range of designs and styles you can pick from, so you can pick exactly the right option to suit your decor. Improve any room with stylish, efficient motorized window coverings from Lutron.
Why You Should Pick Motorized Shades
There are tons of good reasons why motorized shades are a great option for your property. Firstly, there's the convenience that you get from fully remote control Lutron shades. You can operate them with a dimmer or wall switch, a handheld remote, or even just your smartphone. Make life even easier by installing a temperature or brightness sensor that knows when to move the motorized shades to preserve the optimal environment in the room. There's nothing to it - all you have to do is pick the perfect ambiance and your new Lutron automatic window coverings will do the rest. Your high-tech property will be the envy of every visitor, particularly since these window coverings are as beautiful as shades get.
Affordable High-Quality Lutron Shades In Berkeley
It's easy to find the perfect set of window coverings that provide everything you're looking for when you choose Lutron products. Our local team will provide you with a free consultation so you can pick out the exact combination of features and design aspects that are perfect for you. Discover everything you need to know by scheduling a free, no-obligation appointment with our top Lutron shades experts in Berkeley.