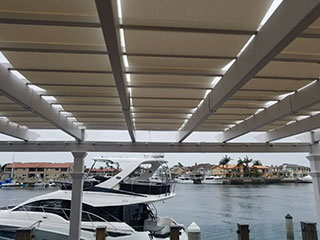 Shaded areas outside let you enjoy the fresh air in comfort and without worrying about the harmful nature of UV rays. But stationary covers for the patio or deck aren't perfect and lack proper functionality to make them a step above just a basic roof. Motorized patio covers add versatility, letting you move the position of the shade to accommodate the sun's position. Remote control outdoor covering solutions are easy to handle and give you a major enhancement of the space's utility and look.
Awnings Motorized For Decks & Patios
It's become quite popular to extend the shaded areas of patios and such with awnings, which provide an excellent addition for both this function and a nice aesthetic look. Motorized awnings let you decide when you want the covers to extend out and when you want them to fold aesthetically and keep the space clear. Choose motorized awnings to enhance your Berkeley patio and add a new aesthetic to the space.
Pergolas With Motorized Canopies and Rolling Screens
As an outdoor shade structure, a pergola delivers one of the best additions available today to improve deck sections and patios. Combining that with a motorized pergola canopy that lest you control how much shade you have at all times, as well as pergola screens that you can adjust with a remote, provides the best of both worlds. Rolling screens for pergolas enhance not only the look but the level of privacy you can have as well as shade from sunlight. Enhance your pergola with motorized covering solutions to get more out of it.
Why Motorized Patio Covers For Berkeley Yards
The trend of innovation continues chugging along at a good pace, and motorized covering solutions have long since become the norm and a favorite option for outdoor and indoor settings. Motorized patio covers give you a lot, improving the appearance while providing a great way to protect yourself and your family from harsh sunlight. To find out more about different motorized patio cover options in the Berkeley area, consult with our specialists. Learn what custom made coverings you can choose and get a free estimate on the best patio canopies, awnings, and shades with remote controls!