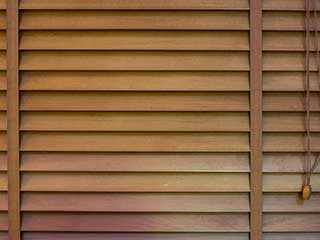 One of the easiest and cheapest ways to beautify your interior décor (home or business) is with textured imitation wood blinds. The elegance these wood-like window treatments offer gives you the beauty of timber at minimal costs. Berkeley Blinds & Shades offers you the top quality faux wood coverings at the best affordable prices around the bay area. You'll get impressive-looking wood grain texture faux wood blinds perfect for bedrooms, kitchens, offices and more. Our custom-designed faux wood window blinds give you total control over the entire process. Choose colors and patterns you like to maximize your décor attractiveness. Design the perfect faux wood window coverings for any part of your property. And with motorized and blackout features available, your new wood-like blinds can do a lot more than look beautiful.
High Quality Faux Wood Window Coverings
Creating wood-like textures on different materials can look beautiful. But if those materials don't last a month or break easily, then is it worth it? That's why Berkeley Blinds & Shades uses PVC and vinyl, among other materials, to create realistic wood grain texture blinds. These products look every bit as good as the real thing. Faux wood window blinds also bring many enhancements over timber. For example, you don't have to worry about your faux wood window treatments taking on moisture from the air. For those reasons, you won't have to deal with wood warping or rotting and other inflicting issues. I.e. no special upkeep needed. With lower density, too, our faux wood blinds can be easily created for any size window.
Affordable Faux Wood Blinds For Windows
Our amazing selection of high-quality faux wood window treatments brings you a fantastic selection of different customization options. You can alter every last detail to suit your requirements. Decide on the width of vanes that you'd like, as well as the color for the faux wood window blinds you want for your Berkeley office or home. In addition, you can choose to enhance your new imitation wood blinds with impressive features such as motorization or blackout vanes. Our custom faux wood window blinds are highly versatile and are an ideal solution for a huge range of different situations.
Berkeley Blackout Blinds From Faux Wood
Our wood-like window treatments provide you with the opportunity to guarantee privacy at home or in your office. If you need to totally prevent light from passing through a window, then we have the ideal products for you. Custom blackout blinds from faux wood come specially designed to cut out all light. That ensures no neighbors can see into your home, even if you have bright lights on at night. These products are all available in our amazing range of different designs, so you can still get great-looking window coverings.
Motorized Faux Wood Window Treatments
If you want to get maximum convenience at your Berkeley property, then motorized faux wood blinds are the ideal way to do so. You'll get top-notch modern convenience alongside great-looking designs. Our motorized faux wood blinds can be made wirelessly or for mains power, along with a huge range of different control options (including smartphone integration).
Lowest Prices On Custom Faux Wood Window Blinds in Berkeley
You won't have to search hard to find the perfect faux wood blinds for your Berkeley home or office space. We've been producing custom window coverings for local residents and businesses for years, and we have the experience and skills to create the custom made blinds you need for your specific budget and needs. Get help from a skilled professional via a free quote and consultation at your Bay Area address. Call anytime to schedule.