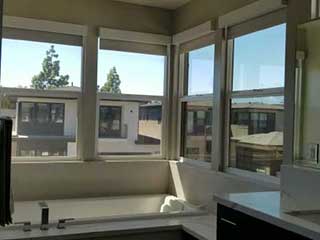 There are so many kinds of motorized window treatments out there. How to decide which ones are for you, or even if any are? For home and business owners in Berkeley and other nearby Bay Area communities, there's an easy and affordable way to get exactly the motorized blinds you need! Our products come with expert consultation and are all custom designed to your desires. If you want good and inexpensive motorized blinds, we've got you covered! Or, well, we've got your windows covered at least. Maybe some glass doors too.
Custom Motorized Window Treatments
We design our motorized window coverings in house, using components and materials from top manufacturers like Lutron and Somfy. The "best" motorized blinds for the situation depends on the room's decoration scheme and contents. Want a professional atmosphere and variable sunlight protection? Some motorized Venetian blinds with aluminum panels should hit the spot. Have a bedroom with an annoyingly big wall window? Get motorized vertical blinds with blackout features. We make everything from external wood blinds to thin roller shades!
Consultation And Free Estimates On Motorized Blinds
Before ordering your motorized window treatments, you can have professional advice. Our interior design consultants can make appointments anywhere in our service area around Berkeley, absolutely free! They'll help you choose the best structure and style for the window in question, as well as color scheme and cost-saving features. You can have the new electric blinds made-to-measure for your windows, and with complementary design that adds to the room's interior décor. Once you have your quote on the motorized blinds you want, we can place the order and get started!
Motorized Blinds With Remote Controls And Sensors
What makes motorized window treatments so much better than the hand-drawn kinds? Sit down, because there's a list! Motorized blinds are child-safe since they have no dangling cords or strings. They're more convenient, of course; remote-controlled blinds require much less time and energy to adjust. With modern technology, like the Lutron smart house systems, motorized blinds can even save you money! Sunlight sensors and Wi-Fi control devices let your window coverings react to the weather, or notify you and let you command them no matter where you are. Motorized blackout blinds can move to protect your property or your sleeping self from the sun. Make your motorized vertical blinds slide shut to keep out prying eyes when traffic picks up. The savings in AC, heating, and furniture costs add up quickly!
Flexible Motorized Window Coverings For Shallow Frames
Not every window frame is deep enough for bulky wood or metal blinds. Anyone with a little bit of room between it and the ceiling has space for motorized roller shades, though! With our inventory of Somfy fabrics, we can design solar shades, blackout shades, and insulating honeycomb shades, among others. Motorized roller shades have all the same advantages as blinds with the same remote control features, and some others besides! If there's no room above the shallow window frame, you can still fit in some motorized Venetian blinds. These are themselves available in a vertical or horizontal orientation, with blackout and sheer covering options available.
Motorized Vertical Blinds For Doors And Windows
Some windows and sliding glass doors are too long for the usual horizontal panels to fit without being overly heavy and unstable. With vertical slats, you get around this problem! Motorized blackout blinds, Venetian panels, and most other types of blinds can go on hanging vertical structures just as easily. Since these blinds tend to be heavier overall, motorization even saves more wear and tear with vertical designs than it does with horizontal ones.
Berkeley Motorized Blinds Services
From crafting the materials and systems to installing the final products. Your perfect motorized blinds are just waiting for creation! Call Berkeley Blinds & Shades today and arrange an appointment to get a free estimate on your perfect automatic window treatments. Choose the motorized shades or window blinds that offer the décor and utility you want, at the lowest prices around the San Francisco bay.