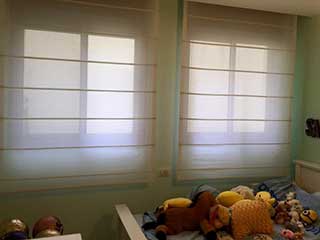 These Roman-style coverings are the cream of the crop when it comes to decorative window shades. They can bring elegance to any Berkeley property and offer a lot of utility when it comes to sunlight control. What are Roman shades, you might ask? Unlike the usual roller shades that wind up, or sheer shades that attach to blinds, the Roman style stay within the window frame even while open. The internal string network that raises these shades causes them to fold up into hanging pleats as you pull them higher. There are plenty of design options for these stately treatments, and Berkeley Blinds & Shades can give you any of them!
Roman Shades For Any Berkeley Home
Even bathrooms, bedrooms, and offices can use Roman-style window shades with a bit of design creativity. Bathroom Roman shades should consist of waterproof materials, and you'll probably want them in white or black. Synthetic fabrics work best here, as they have natural moisture-resistant properties. To make kitchen Roman shades work, you'll need to check and make sure the windows are tall enough to accommodate their closed pleats. If your kitchen has such a window though, you're golden! Since they require taller window panes, Roman shades are just as useful for glass doors, which expands the list of places you can put them.
Roman Shades For French Doors And Balcony Entrances
Since they're tall and imposing, glass doors make a natural combination with these window treatments. Roman shades on French doors only increase their weight by a little bit, and with their in-frame housing, they'll always stay in place on a moving door. Larger wall-sized sliding doors might be harder to fit shades for, but anything less than six feet wide or so is easy! Larger doors are also compatible; we'll just need to be a little more effort into the design.
Extra Features And Secondary Window Treatments
Roman shades with curtains, drapes, and other additional treatments have been popular for centuries. Curtains over rippled pleat Roman shades create a downright palace-like image. Some valences over the upper corners of a shaded window add a presentational quality and call attention to windows you want people to look at. You can also install some external blinds to keep out harsh sunlight while freeing you to use lighter, thinner decorative Roman shades. Blackout curtains are another solution to the same problem.
Automatic Motorized Roman Shades With Wi-Fi
To get the most convenience out of your new purchase, your only real choice is automation. Our motorized Roman shades include remote control handsets, and you have the option of adding timers and sunlight sensors. You can connect and control your motorized Roman shades via Wi-Fi, and even connect them to your Google Home assistant or to your Amazon Echo. In addition to the ease of use, motorized shades, Roman or otherwise, offer childproof shading solutions for your Berkeley home. They are much safer for pets and young children since they don't need dangling draw-cords. This minimizes the risk of entanglement and strangulation that regular corded window coverings present.
Customize New Roman Shades For Your Berkeley Windows
If you have a window you want covered anywhere around the Berkeley area, get a free estimate on any type of Roman shades you like. Our interior decoration team provides free in-person consultation to all nearby sections of the San Francisco bay area. We'll help you choose the best possible look for your new Roman shades or any other window coverings you like. Relaxed Roman shades are perfect for galleries, living rooms, and the like. Gray Roman shades made from a smooth, reflective fabric complement almost any background. Thicker fabrics with richer hues for bedrooms or black and lace-lined ones for foyers, the list goes on! Your free estimate will ensure you get the most benefit out of your order, and at the least expense! Give us a call to schedule an appointment today!