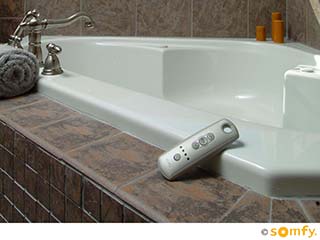 The increasing popularity of motorized window coverings is completely understandable. These systems bring so much convenience to homes and businesses that it's easy to see why so many people install them. Somfy's innovative designs even let them interface with your home's Wi-Fi and IoT systems. This offers total control over natural light at all times. As the leading Somfy blinds installers in Berkeley, we offer an amazing range of products, as well as free quotes on our entire range.
Smart Motorized Window Blinds
Advanced covering solutions are the way of the future. Motorized smart blinds let you easily cover up glass surfaces, but the beauty of the design is somewhat limited. There are tons of elegant styles to choose from, like Roman blinds, which allow you to enjoy style and utility without any compromise. So why settle for less? Start with sheer blinds that diffuse light, rather than blocking it entirely. Motorized Somfy blinds create a beautiful ambiance in any Berkeley room, whether residential or commercial. On the other hand, you can pick blackout curtains that cut the sunlight out entirely. That's ideal for places where you want privacy and darkness, like your bedroom. Add in smart Somfy motorization and remote controls, and you've got a winning formula.
Berkeley Area Somfy Motorized Window Blinds
Classic-looking designs like Venetian or vertical blinds are another very popular choice. Remote controls let you reposition the vanes themselves to let in more light or cut it out. That's a really useful powerful ability to have, and lets you easily adjust natural light levels to your taste. What's more, since Somfy motorized blinds can link to your Wi-Fi network, you can even control all this from your smartphone.
Motorized Somfy Outdoor Shading Systems
The innovative range of Somfy shade systems also extends to outside the property. Patio covers, deck canopies, and other shade structures also benefit from motorization thanks to Somfy. Pergola screens can deflect bright light and UV rays, and it's easy to extend your patio covers with motorized awnings that keep your family and guests comfortable. Get more out of your backyard by installing custom Somfy outdoor shade systems.
No-Obligation Consultations, Smart Blinds & Shades
It's simple to make a big change to any property when you install custom Somfy blinds and shade systems. We're the best place to get these motorized blinds from because our team is extremely experienced and diligent. We make sure your new motorized blinds fit perfectly, so there's no gap that light can spill through. Schedule a free estimate and our team will help you find the perfect custom Somfy motorized shade products for your Berkeley business or residence.