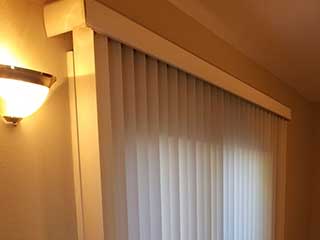 Most windows are at least a little bit taller than they are wide, so it makes sense to put horizontal blinds on a vertical frame. If you have longer wall-length windows, though, you'll need the opposite. Call Berkeley Blinds & Shades today, and we can get started on a set of custom vertical blinds made for your windows in particular! Below you can find more info about these vertical window treatments and various features they can have.
Vertical Blinds For Home Windows And Doors
As long as an opening is long and relatively low, it's better suited for vertical blinds than the more common type. Vertical blinds for windows in bedrooms, living rooms, and kitchens are all common. Some bathrooms and hallways can also have the long rectangular windows that call for this type of covering. French doors and sliding glass doors with vertical blinds are also an intuitive combination. Add another set of tracks along the door's, or hang the blinds from a bar overhead, and you have a movable protector for some of your biggest windowpanes.
Commercial Vertical Blinds
Berkeley workplaces like restaurants, bars, and offices can benefit a lot from these vertical window treatments. If you've got a service-oriented business, some elegant wooden panels can really set a mood. For a more professional office space, Berkeley Blinds & Shades offers padded or plain vertical blinds. That'll create the professional, organized atmosphere you want! Offices, in particular, have can use vertical blinds, since they often have sensitive computers or client seating arrangements in part of the room. Since these blinds open from side to side, you can shade the parts of the suite that need it while letting the sun in elsewhere!
Get The Best Treatment For The Situation
Aside from choosing the best color for any given room, you can have us make structural changes to your new blinds for comfort and longevity. Worried about water damage, or want something extra lightweight? Consider aluminum vanes instead of wood or synthetic ones. Vertical blinds and curtains make a great combination, letting you block, break, or filter the sunlight for part or all of the room. If you want the most convenient and reliable choice available, we also provide motorized blinds and accessories.
Try Motorized Vertical Blinds
Automatic window blinds open and close themselves with the push of a button, or even on their own! Along with the electric motors and remote controls, Berkeley Blinds & Shades can give you timer or sensor systems. Set the timer, and your motorized vertical blinds will always close during mid-morning and open again once the sun is no longer a problem! With one of our sensors, you can even have the motorized blinds "watch" the weather and adjust themselves as needed! No more worries about sunlight damaging your carpeting, wallpaper, or furniture, even if you forget or aren't home in time. With the right settings, you can also ensure the motorized vertical blinds will close themselves when the streets are extra busy, to protect your privacy.
Best Custom Vertical Blinds In Berkeley
Before you make an order, for vertical blinds or other window treatments, we provide a free estimate. We do this via an expert that comes to your home/office (anywhere in the Berkeley area) and consults you. Our experts will help you weigh the advantages and drawbacks of each possible feature, and they'll be glad to advise you on minimizing expenses. Choose your color, your material, and your frame or hanger style, as well as any extra features like curtains or blinds automation. We've got professional interior decorators to make sure every choice is a credit to the room, as well as within your budget!
We Include Blinds Installation Services
After we make the new vertical blinds (or other types) with your custom design, we bring them over and set everything up. The vertical blinds installation process is a bit different than the way regular horizontal coverings are set up, but not that much. From installing the new vertical blinds in your Berkeley address to programming the remote control and sensors, we've got you covered. Literally, and no pun intended. Get our entire goods and services package for one discounted payment by calling us today to set up a free estimate!